Hilton Head Island's Adventure Professionals
™
Dinner at Marshside Mama's
with
Live Oac
Marshside Mama's Restaurant
Marshside Mama's Restaurant has permanently closed.
We wish Beth and her crew the best and brightest future!

Marshside Mama's was a truly unique destination. We're leaving this page intact in memoriam.

In the meantime, there are some other great spots to go for a meal on the water, so give us a call and we can discuss. They're great, but there won't ever be another Marshside Mama's.
So long, and thanks for all the fish.
Douglas Adams Hitchiker's Guide to the Galaxy
Marshside Mama's is about as "Lowcountry" as you can get. If you're looking for a memorable night out, this is the place. But don't blame us if you've forgotten some of it the next day.

Under the motherly guidance of proprietor Beth Shipman ("Mama"), you'll enjoy an authentic Lowcountry meal in great company. Her motto is "no whining, just dance!" Live entertainment includes local favorites the "Porta Johns," "Southwind" and regional acts. Leg-shakin' live music happens most Friday and Saturday nights (and occasional weekdays, too) from April through August. We can check with the restaurant regarding entertainment schedules if you so desire.

Maybe you'll have the chance to strike up a conversation with a local and learn more than you ever wanted to know about Daufuskie Island. If it's an escape from the modern world you're looking for, step back into time with us on an evening of fun and adventure to Marshside Mama's!

Marshside Mama's trips are private charters, per boat (up to 6 people).

Base rate is $399 for the first 3 hours, plus $50/hr additional time.

It's about a 45-60 minute boat trip each way, depending on tides, wind, and if we take a "leisurely pace" or not, so that gives you about 1 - 1½ hours at the restaurant.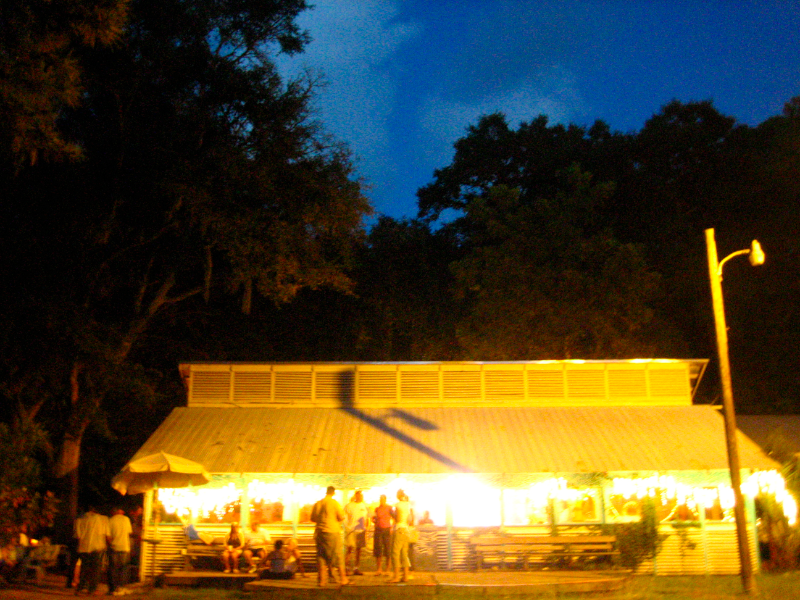 Live Oac's Hilton Head Activities: